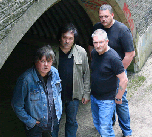 2010 saw a new 5th member Tim Newcombe join SYMPTOM, and the writing and rehearsing of new songs in preparation for the 4th album, titled 'HOW DO YOU FEEL?'. It was recorded in 2011, and was released in 2012, it was the band's most crafted of their self-produced works to date. Three singles from it were released later that year.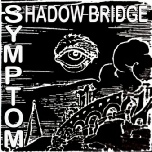 In May of 2015, Symptom began writing and rehearsing new songs for a new album project that will be called 'Towards The Light', with recording and release hoped for 2016. Before then, a double compilation album of carefully selected and newly re-mastered tracks, titled 'The Story So Far', is planned for release soon.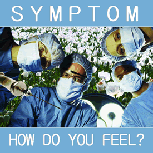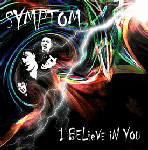 LONG AWAITED SECOND ALBUM - 'I BELIEVE IN YOU'
Symptom's second album was recorded in 1998. Of its 12 songs, 5 were recorded in Hartlepool and 7 in Nottingham. Again, all main foundation tracks of drums and the three guitars (with a guide vocal) were recorded live in the studios. Main vocals, and harmonies, some percussion and keyed strings, and post-production were added later. It took 6 days to complete (4 days recording and 2 days to mix down). The only song that didn't receive any post-production is 'Conscience' which has been added as a bonus track at the end of the album. It was recorded live with the guide vocal complete in its lyrics so left on. At the end of 1998 the whole album was ready and planned for release in autumn of 1999. Throughout 1998 and early 1999 Symptom gigged the UK promoting their first album. They were voted 'Best of the New' by NME at end of 1998 and chosen to headline the start of the NME Carling Premier Tour during 12th - 20th January 1999.
Unfortunately, soon after the tour Symptom broke-up and the album was shelved and not released. Only two songs from the second album were released as special limited edition singles for fans and promos for radio play: 'I Believe in You' in 1999 and 'It's Raining (Down on Me)' in 2000.
Robert Plant …[with]...Simple Minds - Mark Beaumont (6 Feb 99) NME
Just received an advance copy of 'I Believe in You' I can't stop playing it! It's gut-wrenchingly beautiful, his voice is for real! Moodier than the Verve, more passion than Pearl Jam. Who the hell are SYMPTOM? In my book, with this single alone, they can f***ing rule the world - JJ Brenner (Jan-Feb 99) JAMMARAMMAZINE
'It's Raining'… Roman Kozlowski possesses the gift to write killer tunes…anthemic…atmospheric…the sort of voice to kill for - Andrea Thorn (Apr 2000) MAKING MUSIC
RETURN
Symptom got back together again with a new drummer in 2003 and started rehearsing old songs and new. Throughout 2004 the band tentatively ventured out playing specially selected gigs within the mid to east regions of England and soon began to draw in both old fans and new. The interest shown in the band's inclusion of several new songs were also an encouraging sign for the future direction of Symptom. Looking for a label to release their second album through, Roman approached independent UK rock label 'Holier Than Thou Records'. The label manager David Begg (a long time fan of the first album) loved the stuff. So, ten years after it's recording, Symptom's second album 'I Believe in You' was finally released.

MORE RECENTLY
2009 was a special year for the band in establishing new directions. In that year they released their first official single 'I Believe In You' which is the title track taken from the album of the same name and described as the 'heaviest rock dirge ever' by XFM. Also a third album and their first since reforming, titled 'Tranquility Chair', with tracks from it finally being played on the beeb… 'Super band' - Bob Harris (BBC Radio 2); 'Some serious happenin' mezmo rock thing going on' - Zane Lowe (BBC Radio 1). That same year, a song from the second album 'It's Raining' was used for a new prime time Australian TV series called BATTLEFRONTS (Chan5/Endemol/SouthernStar).





BEGINNINGS
Symptom was originally formed in the early 90s from the remnants of
a psychedelic punk-ska outfit called 'The Crowd'. The early part of the 90s
experienced a multi-dimensional sounding Symptom consisting of pianists, synthesizers, several guitarists, many backing singers, drummers and percussionists producing an eclectic mix of reggae-funk-metal-prog rock once likened to a Bad Brains meets Pink Floyd. 1995 was a turning point for Symptom. It was a time for going back to the basics of a four-piece and a harder edged and more defined rock sound.

FIRST ALBUM - 'TEMPORARY ALIEN RESIDENTS'
It all started with a debut album of live recordings titled TEMPORARY ALIEN RESIDENTS originally recorded in 1995 and distributed on the band's own 'Little Fish Records' label'. The album was later taken up and officially released in August 1997 by major label Total/BMG with distribution in UK by Pinnacle.
The album consisted of 10 songs recorded live in just two afternoon sessions in the basement of a friend's house in Hitchin Herts England using seven mics and an 8-track recorder. The band played without separation in one room, hence the natural spill-over wall of sound type of effect. No over-tracking or post-production techniques were used. Amazingly, the first 9 songs featured on the album were all first takes. On the last song the drummer makes a false start by dropping his sticks on the intro and the band fall about laughing. The genuine feel and the light-hearted banter had become a talking point among fans and so was included also in the major release. With its no-frills and no post-production, but just a pure raw valve energy of sound captured straight onto disc, it was the record that really introduced Symptom to the world.
Picture this, Robert Smith on stage with Bono, Jimmy Page and that bloke with the funny voice from Crash Test Dummies. The lead vocalist has a deep incredibly powerful voice that sticks with you after the last wail of electric guitar has faded. Symptom are literally electric - Karen Cloudesley (Apr 96) THE PAGE
It rocks like a diesel powered juggernaut - Martin James (21 Jun 97) MELODY MAKER
A rarely unearthed quality vocal - James Sherry (9 Aug 97) METAL HAMMER
The band's raw energy with Roman's earth-moving voice is just awesome. A must have album. - Baz Ashcroft (Nov 98) ROCKAGE UK
Attacking guitar work of Miles Sheppardson...psychedelic lyrics - Liam Sheils (5 Jul 97) KERRANG!